Just Right Pet Food is committed to making sure that their customers' dogs are getting only the best ingredients, so they offer a monthly subscription service for customized dog foods. All of these recipes contain 100% natural and fresh meat with vitamins & minerals added in too!
How Does Just Right Pet Food Work?
Start with their 5-minute questionnaire.
The quiz is extensive and very informative to assist you in creating your furry companion's ideal meal plan. You're asked to provide With the quiz, you can determine your dog's ideal food plan. You are asked to provide some information about them such as their age, breed, weight, food allergies, health conditions, bodily functions (condition of stool), feeding habits, and active levels to determine your dog's unique custom food blend. At the end it allows the option to upload your fur baby's photo for that extra personalized touch.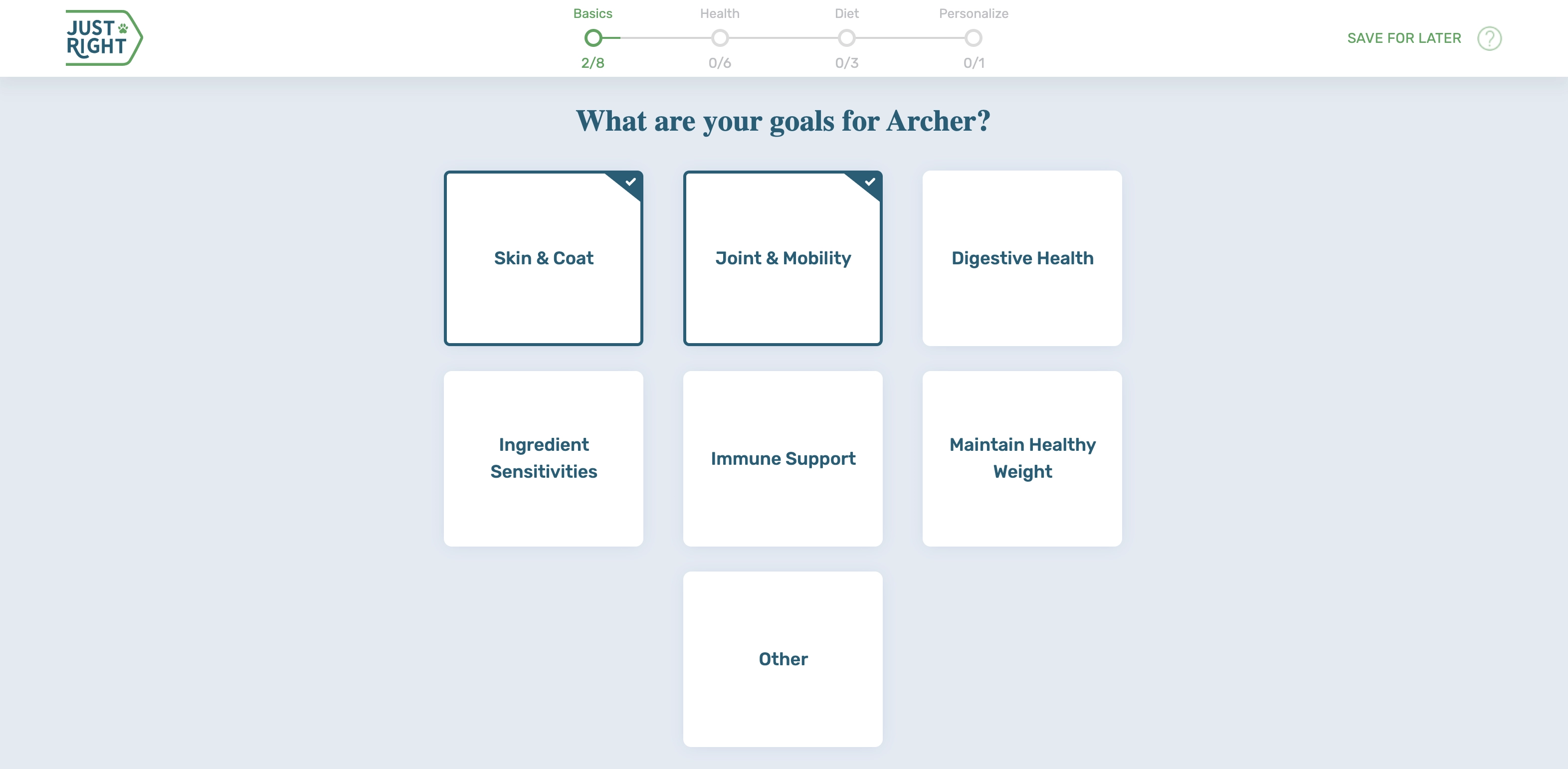 Get an expert's recommendations.
Your dog's individual profile created from the information provided will determine the blend of ingredients, custom feeding schedule with appropriate serving size, and price. Just Right will include a measuring cup along with specific instructions so that you know exactly how much food to feed your pup. The dog food bag is resealable to lock in the fresh food natural flavor.
An easy and flexible subscription.
Each month, the team at Just Right Pet Food sends a custom blend of delicious food just for your canine. They will send an email reminder of when the next month's dog food order will process and another email when the customized dog food is shipped. You can also cancel any time without penalty which means that if you need some extra room in the kitchen or suddenly notice an allergy issue with one ingredient- no problem: there's always next months supply on auto ship mode (and shipping is free). Please note that you cannot purchase individual bags outside of a subscription.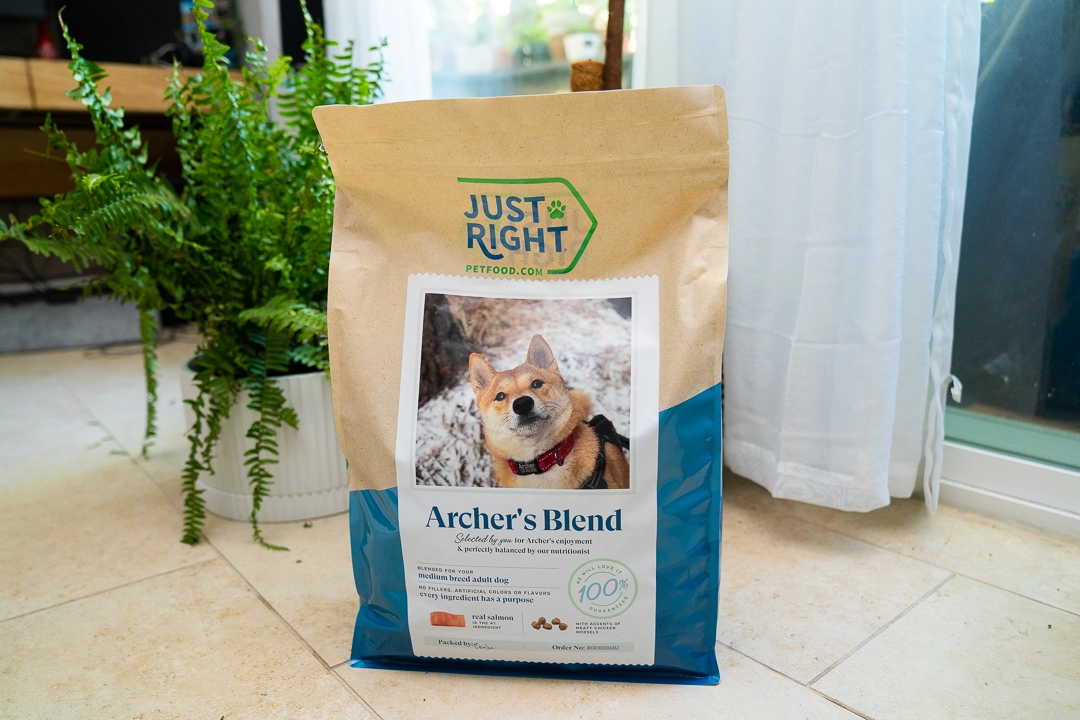 Where is Just Right Pet Food Made?
Just Right Pet Food line of customized dog food is proudly made in the USA (Clinton, Iowa) and undergo strict quality control practices. Each bag is filled with purposeful high-quality ingredients chosen for taste and designed for your pet's specific nourishment. Place an order and you'll receive your custom blend in 3-5 days.
Is Just Right Pet Food Made by Purina?
The Just Right Pet Food is the perfect solution for your furry friend's dietary needs. Made with 90 years worth of experience and backed byNestle Purina Petcare Co., this formula will be sure to provide what they need.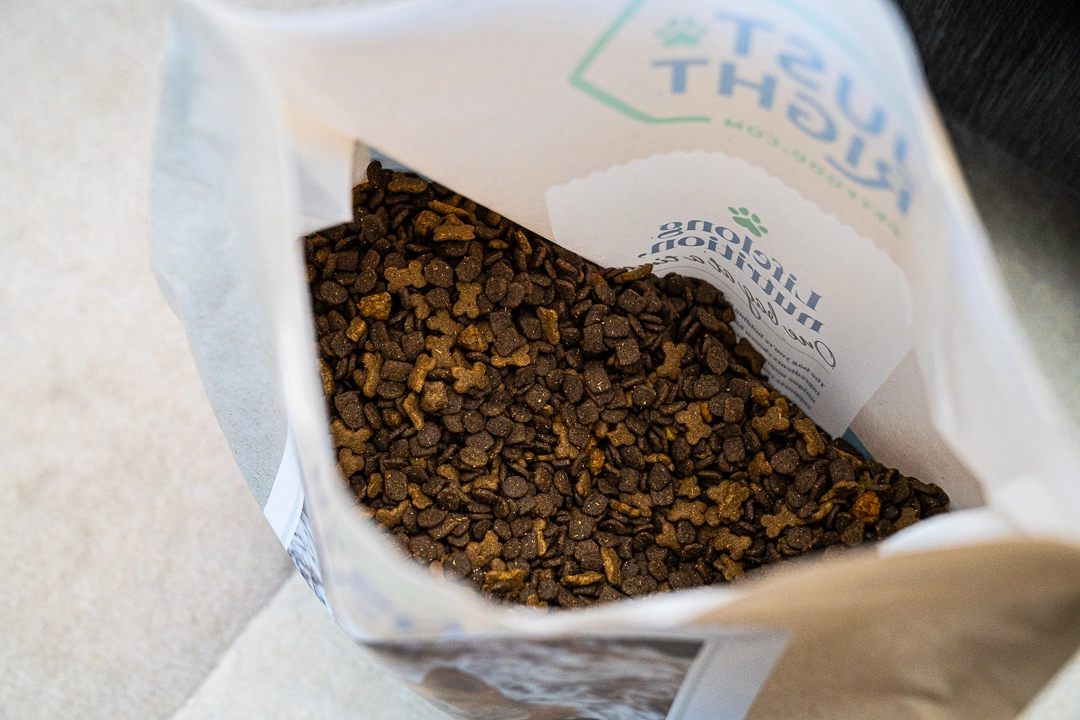 Will Just Right Pet Food address my dog's health needs?
Common nutritional needs Just Right Pet Food supports that veterinary nutritionist approved:
Ingredient preferences (grain free, healthy fats)
Lifestage needs (from puppy to senior)
Ideal weight
Digestive health
Joint health
Dry skin and dull coat
How much will custom dog food cost?
Just Right dog food subscription price varies depending on your dog's size and individual needs. Below are the average prices by breed size for comparison.
Just Right Average Monthly Subscription Prices:
Extra Large Dogs: $80
Large Dogs: $66
Medium Dogs: $48
Small Dogs: $31
Toy Dogs: $24
Get 50% off your first order of customized dog food and free shipping on the Just Right Pet Food website.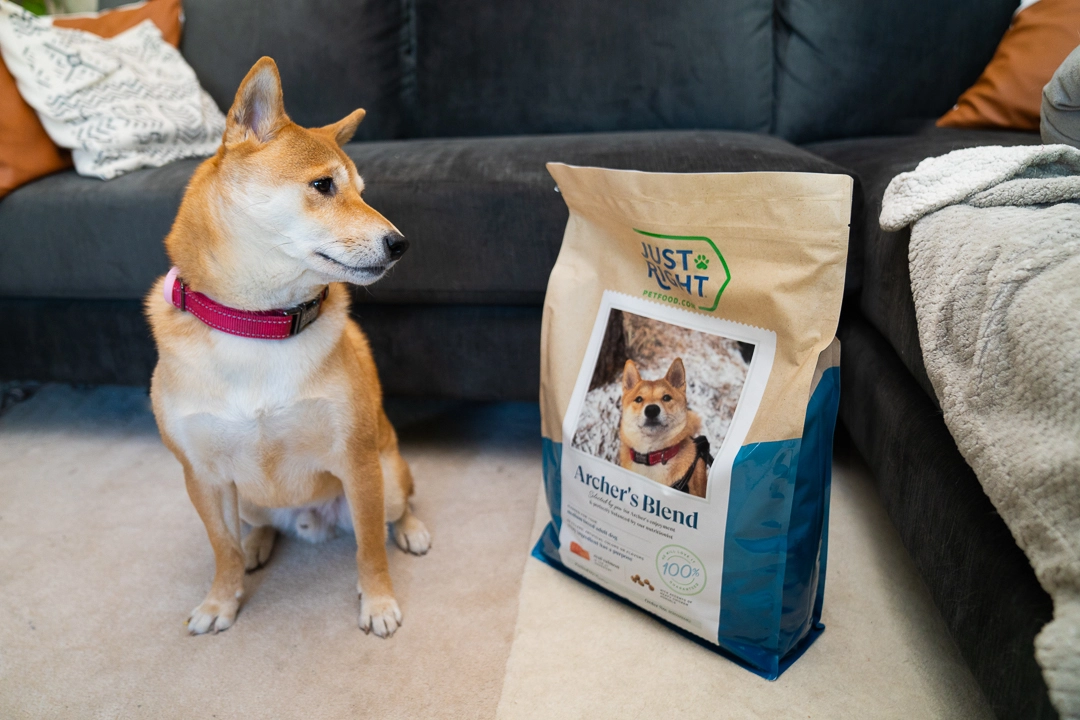 Just Right Pet Food Review
Our Archer, a Shiba Inu, is a very picky eater when it comes to dog food. He rarely touches his current kibble mix throughout the day, nibbling late at night in an act of desperation.
We chose the real salmon as the main ingredient for the Omega-6 essential fatty acids to support a healthy coat and skin. We were pleased to have the option for a second protein and chose meaty chicken morsels.
The second we opened the Just Right dog food, Archer was immediately intrigued by the smell and poked his head right into the bag. Once we poured the recommended amount of Just Right kibble blend into his doggy bowl, Archer dove into his bowl and ate everything in one sitting.
We were all very excited to witness our dog finish his food and even licked his bowl clean. Archer begged for seconds but we had to resist giving in so that he can maintain his healthy weight.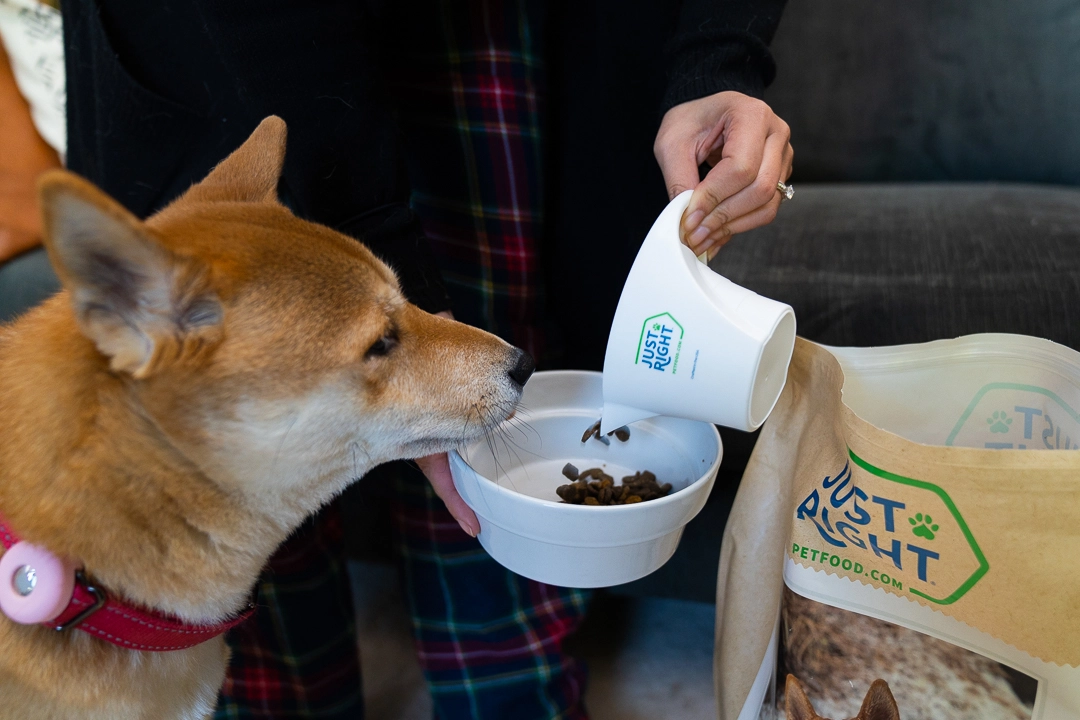 Is Just Right Pet Food Worth It?
As dog parents, you only want the best for your dog and often worry if the new dog food is compatible with their taste and digestive system. No one likes the sight of loose stools or your furry friend being lethargic.
In our opinion, Just Right Pet Food is definitely worth it.
Even our dog's stool changed right away to firm and healthy "logs". Overall, our pup's health has improved after switching to Just Right Pet Food. We noticed our dog had more energy, a healthier skin, a shiny coat, and he now looks forward to mealtime.
We also love that Just Right Pet Food ships directly to our front door at no additional cost sparing us the hassle of going to store or local pet market.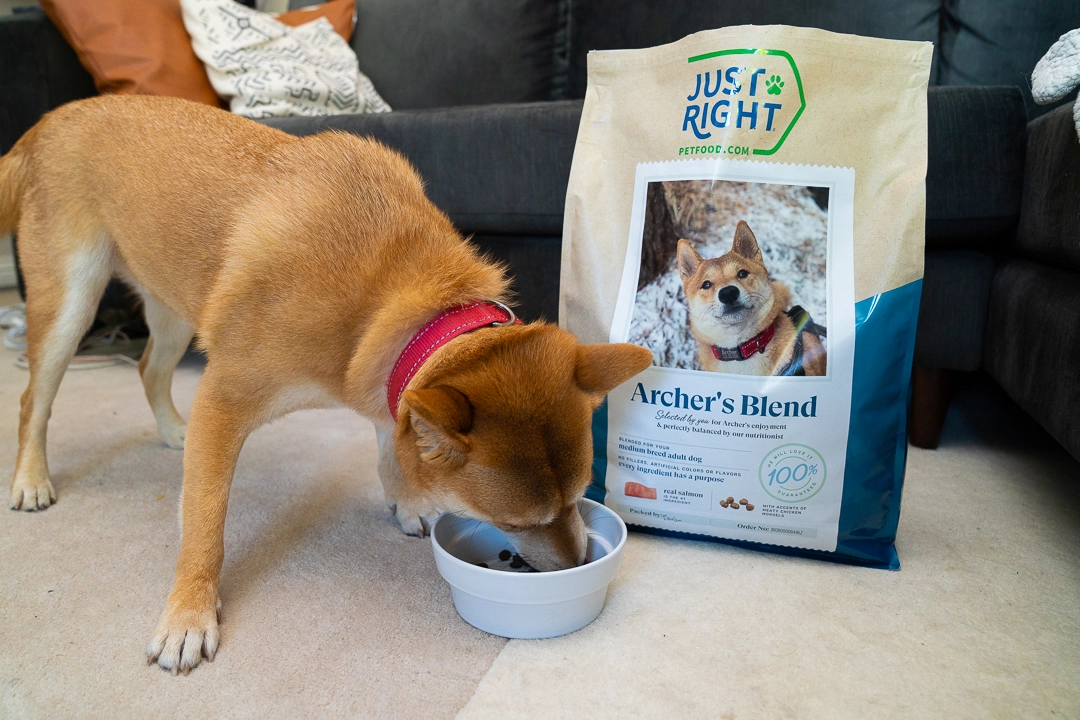 Who Is Just Right Pet Food For?
Just Right Pet Food is one of the top custom dog food options packed with premium ingredients for that custom diet. Just Right Pet Food wants you and your dog to love your experiences, so if for any reason that either of you is not 100% satisfied within 60 days, Just Right will return your money hassle-free.