Whoever says you can't make money playing trivia games hasn't tried to play Swagbucks Trivia for Money. The trivia app pays out real cash prizes and is available on an Apple or Android mobile phone. You can find the app in iTunes or Google Play.
Here's how you can win real money when you play trivia games on Swagbucks Daily Trivia for Money.
This Swagbucks trivia app has two game formats that are like quiz game shows!
Best Paid Trivia Apps: 2 Great Options
The first is a live trivia game with thousands of players who simultaneously answer trivia questions. The trivia app game show starts at 8 PM ET/5 PM PT Monday – Thursday and 3 PM ET/Noon PT on Friday. Players compete for prize money valued at up to $5,000 in this live trivia game. To win cash by answering trivia questions, a host presents 10 multiple-choice trivia questions. If you answer them all correctly, players win real money that they share with other winners. With this trivia app, players win even win actual money simply for answering trivia questions correctly.
The second way is a daily game you can play at any time. Win money with this Swagbucks trivia app from a daily trivia game challenge. The trivia app presents players with 10 random trivia game questions. In the trivia games, layers win real money based on the number of questions answered correctly in the trivia app.
The first option is perfect for those who love the thrill of live trivia games. It's real-time excitement where you're playing alongside players from all over the US and beyond. There are in-app purchases offered to get back in the game if you are eliminated. Pay money (SB) or watch videos to continue through the game.
How Does it Work?
For the live trivia game, answer 10 questions correctly and winners split a prize pool with other players who get all 10 answers right.
Your winning share could be anywhere from 50 SB (50-cents) to 200 SB ($2) or more.
Players are eliminated for wrong answers. But you can get extra lives (continue on in the game) by watching videos (sponsored ads) or paying a small SB to buy back in. The required amount can vary, but your winning prize share is always more than the buy-in cost.
For the daily game, you are given 10 questions to answer. You can play one game per day. Earn SB for each correct answer.
At 11:59 pm PST each evening, the daily game will be reset and a new game will be available for the next 24 hours.

The daily game is made up of 10 random questions from previous Swagucks LIVE games. As with LIVE trivia games, you have 10 seconds to answer each question. The more correct responses, the more you can earn.
0 – 3 correct answers = 0 SB
4 – 5 correct answers = 1 SB
6 – 7 correct answers = 2 SB
8 – 9 correct answers = 3 SB
10 correct answers = 10 SB
At the end of the daily game, make sure to claim your SB rewards so you can add them to your account and cash them out.
The trivia games in the Swagbucks trivia app are completely free and are the best trivia apps you'll find. Free games with real fun for real-world prizes. When you play games and enjoy trivia, the issues prize in the form of the Swagbucks currency called SB, which players can redeem for a real cash prize and free gift cards.
When you get the app, there is an option to enable push notifications so you can be alerted to new games available.
There are other trivia crack apps like the HQ Trivia app that allows players to win real money prizes. If you want to make money online with a free app that allows you to win prizes, you should pick a favorite trivia app. The Swagbucks trivia app is an easy way to get free money by answering trivia questions. The free money you win isn't going to cover your mortgage but you will win real cash. Over the years, scores of players have won a few hundred dollars.
Most trivia apps offer free games and are available for Android devices and Apple devices but very few are about winning money.
What Are SB?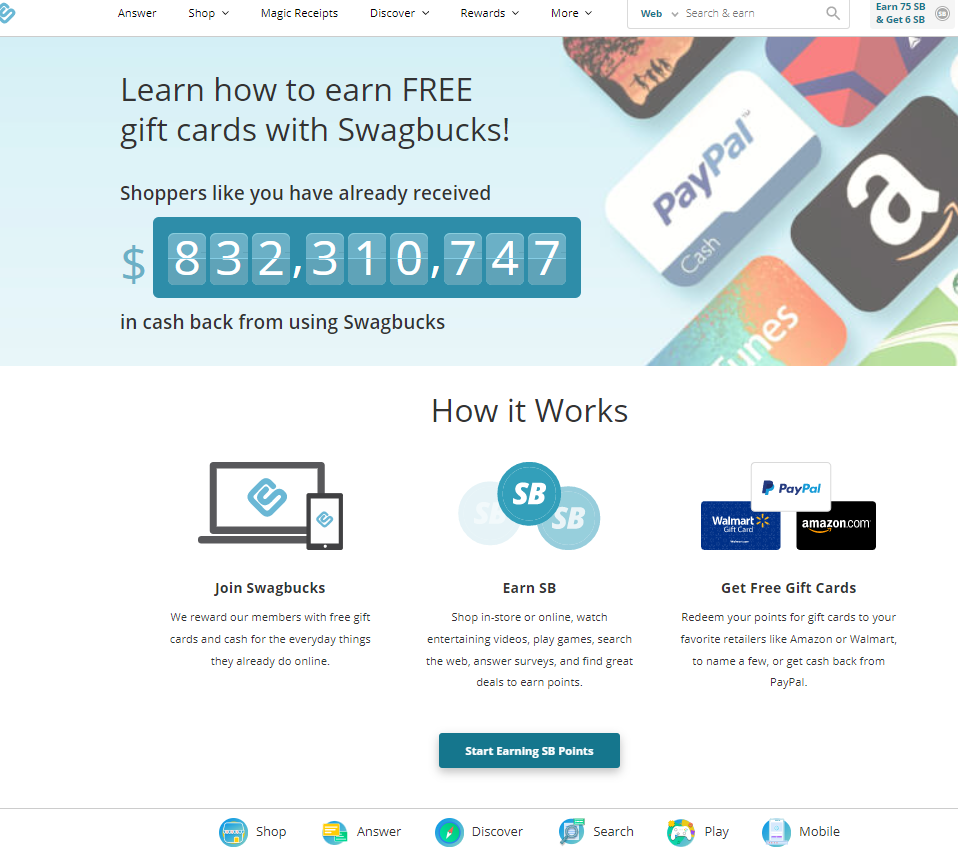 SB are the points you earn for playing trivia games and other Swagbucks earning activities. 100 SB are worth $1.00 USD and 1 SB is worth 1-cent. The easy math makes it effortless to track your earnings.
How Do I Cash Out My Swagbucks Trivia Earnings?
Cash out your earnings on Swagbucks.com in the Swagbucks app. It takes 30 seconds to set up your account on Swagbucks – just create a username and a password.
Then, you can cash out your earnings as PayPal cash, gift cards, or other prizes. Redeem gift cards starting at $1 in value (for Amazon).
Under account settings, select the "Redeem SB" option. Prizes are delivered electronically, to your PayPal account, or as an electronic gift card by email. There is an option to select a paper check too.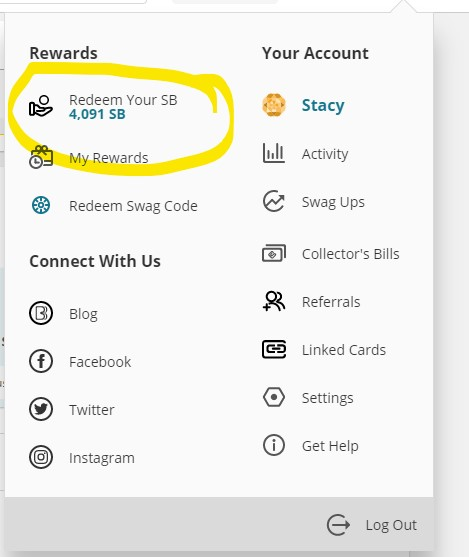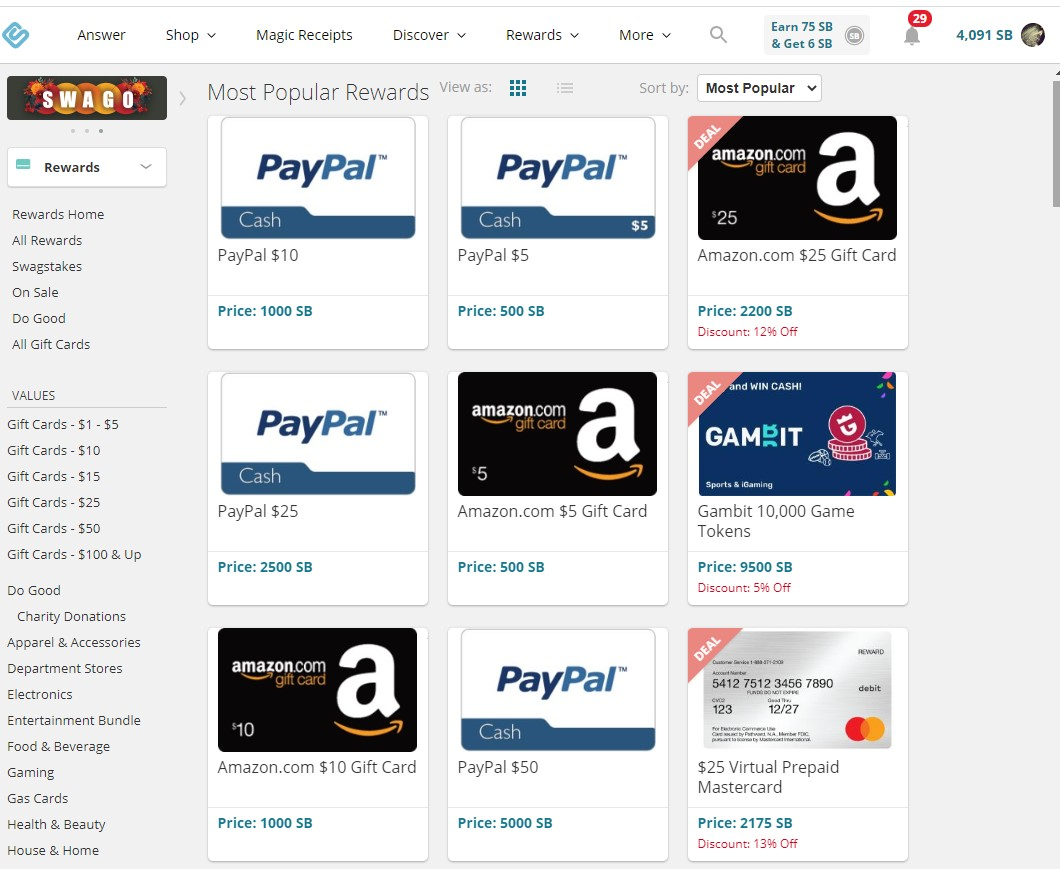 How Else Can I Earn Money from Swagbucks?
Since 2008, Swagbucks has offered dozens of ways to earn money online and in the Swagbucks app. Trivia games are just one way to score real prizes.

Earn money for these activities:
Answering surveys: answer paid surveys on a variety of consumer topics, pop culture, politics, and more.
Playing games: web-based games and app games of all kinds (in addition to trivia). Earn rewards for playing new games of all kinds.
Shopping online: get cash back rebates when you shop online at 10,000+ stores.
Scanning receipts: earn cash for supermarket purchases of featured items
Searching the web: get rewards for searching the web.
Trying new products and services: trying free samples, installing other apps, signing up for free eNewsletters, and more. Get paid to discover great offers.
Redeeming prize codes: earn rewards for finding and redeeming prize codes called SwagCodes on social media and throughout the Swagbucks site and app.
Watching videos: get paid for sharing and liking video reels in the Swagbucks' video app called SwagIt. Get SwagIt in Google Play or iTunes.
Much more!
Every day, over 9,400 free gift cards and PayPal cash prizes are redeemed by Swagbucks players.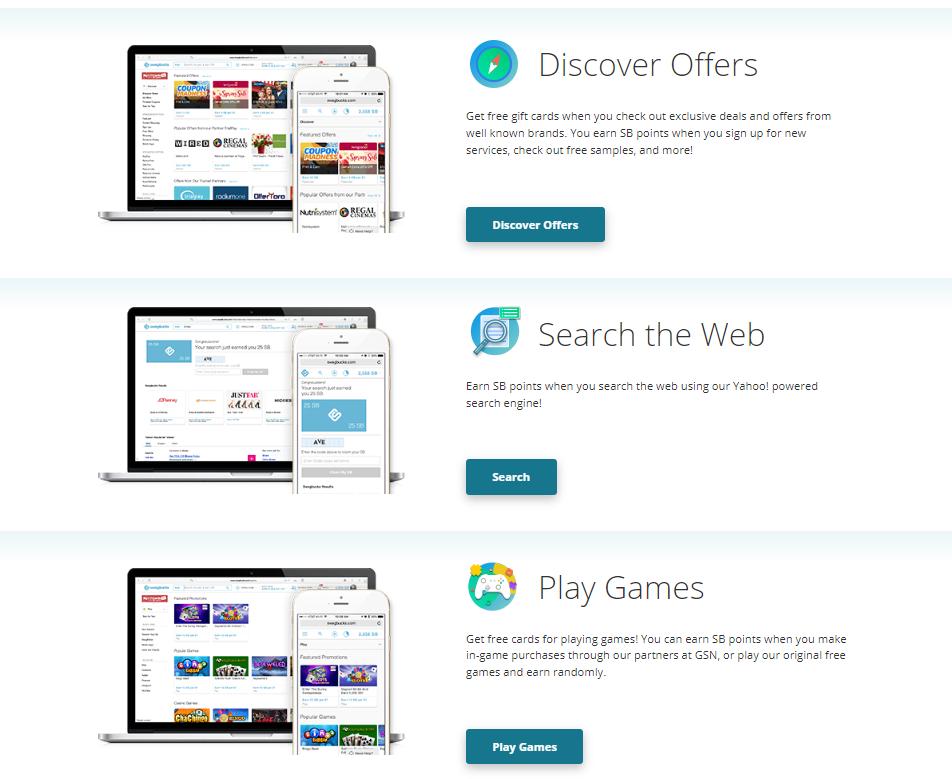 So, if you love to play trivia and want to earn free gift cards or a cash prize, download the Swagbucks Trivia for Money trivia app. We're certain you'll like it way more than HQ trivia or the other trivia apps out there. Get Swagbucks LIVE now and start earning money for playing trivia today.
Trending Articles: