If you're feeling the pinch when it comes to paying for Christmas gifts and other holiday expenses, you're not alone. With inflation woes, 62% of Americans are cash-strapped this year.
Regardless of other financial and family stressors, parents want to make magic for the holidays. I've found lots of blog articles that urge making homemade presents or coupon books to save money or going for a frugal, on-budget Christmas.
Of course, I don't think you should over-extend yourself to buy presents. But when your 13-year-old has their heart set on a particular game or gaming console, a flannel shirt and a jigsaw puzzle just aren't the same.
There's still time to earn money to pay for Christmas gifts and other holiday shopping. Let's take a look at some easy ways you can earn money from home without having to punch a time clock or, in many cases, even leave your couch.
5 Creative Ways to Pay for Holiday Gifts
1. Take Surveys and Try Offers on Swagbucks: $150 – $500
Swagbucks pays member cash for completing different tasks online, like answering surveys, searching the web, or trying new offers. Users who log into Swagbucks at least 12 times a month average $160 in monthly earnings. Log in every day and devote an hour or two, you could probably double that figure.
Surveys can pay $0.50 to $10.00 and cover many consumer topics.
There are several hundred free offers you can complete to earn $5, $50, or even $500 and more. These offers include signing up for newsletters, trying new apps (free), getting free quotes, and much more. I've made a little over $630 by completing Swagbucks offers on the Discover page.
It's free to join Swagbucks and takes about 60 seconds to sign up.
If you're ready to check out the offers, head straight over to the Discover page. Or, you can read up on how to get started earning your first $75 from Swagbucks offers in this easy, step-by-step article. And you can even check out this article where I outline step-by-step tips on the offers you can complete to earn $1,000 free from Swagbucks in this article about the top high-paying offers.
2. Make Just One Food Delivery with DoorDash and earn $100
I've completed a similar offer myself where I made one Uber Eats delivery to get a free cash bonus and am going to sign up for DoorDash too. It's $100 to bring someone one bag of food. Easy Peasy.
You don't need to have a nice car – you're hauling food, not chauffering people. You could use a bike if you prefer. And you can claim the deliveries that you want to drop off. Just make sure to check out the details about the info you need to sign up, and the date by which you need to make a delivery to claim the bonus. It can take up to 32 days for the bonus funds to hit your account after making the first delivery.
But for the delivery you make, you can cash out sooner. In fact, making food deliveries is a great short gig for the Christmas shopping season. You can cash out your earnings up to once per day. Sign up for DoorDash and the $100 new Dasher bonus.
3. Plasma Donation: $300 – $500
One donation of your blood plasma can save up to three lives. Donations go to individuals with cancer, hemophilia, or undergoing transplant surgery.
Blood plasma donation is different than blood donation. The process takes longer (1 – 2 hours) and there is more screening (i.e. no recent tattoos or piercings).
You can typically earn $20 to $50 per donation, but plasma centers offer generous bonuses to new donors that can add up to several hundred dollars. (Note: you can donate plasma up to 2x per week.)
For some, a bonus is paid after your first donation. For others, the new donor bonus may be spread out over your first 6 to 10 donations. Search "donate plasma near me" to find nearby centers.
4. Buy Christmas Gifts with Gift Cards: $20 – $200
You can purchase discounted gift cards and earn cash back rewards on MyGiftCardsPlus.com.
MyGiftCardsPlus sells gift cards to nearly 200 popular retailers, including Bed Bath & Beyond, Lowe's, GAP, REI, and more.
Earn cash back with every gift card purchase. Cash back amounts range from 3% to 40%. It's like buying discounted gift cards but in reverse. You buy the gift card at face value, and then get a discount amount as a cash back reward.
Why is this better than just buying a discounted gift card?
The reward is much higher. Let's take a $100 Nautica gift card for example.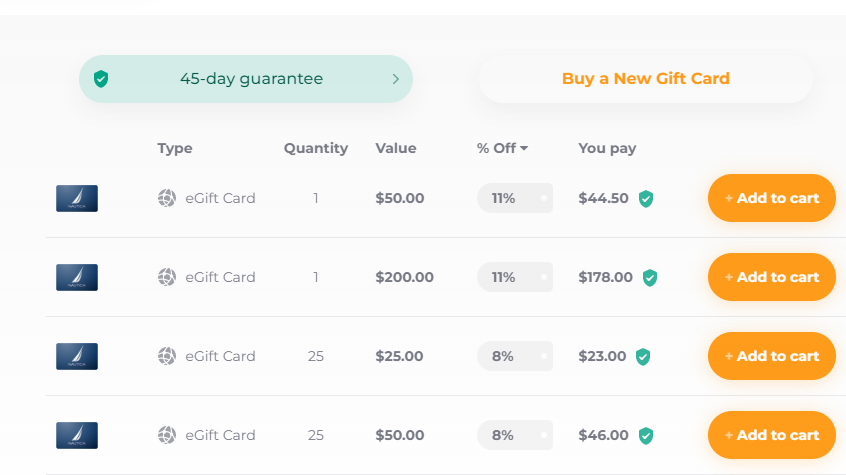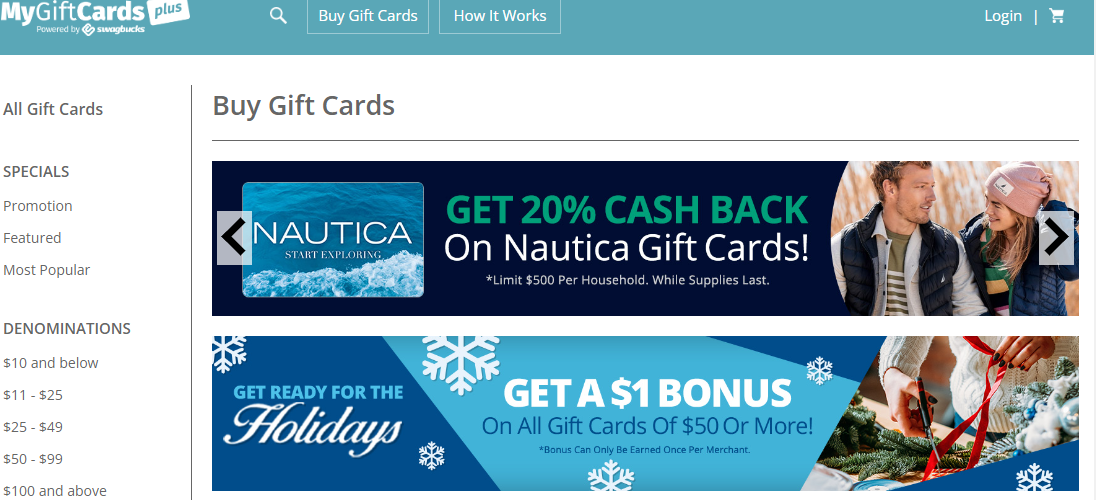 On MyGiftCardsPlus, I pay $100 for a $100 gift card. Then I get a $20 bonus (and then an extra $ 1 holiday bonus).
On the discounted gift card site, CardCash, I pay $89 to get a $100 gift card.
Net cost on MyGifts Plus: $79
Net cost on CardCash: $89
It's a $10 savings with MyGift CardsPlus
For $79, I can buy $100 worth of holiday gifts. And when you factor in holiday season sales, it's more like getting $150 to $200 worth of merchandise for $79.
Other Gift Card Deals on MyGiftCardsPlus
20% Cash back Aeropostale
20% Cash back Red Robin
20% Cash back Jiffy Lube
20% Cash Back Athleta
20% Cash Back TopGolf
There are nearly 200 retailers featured though. You can find discounted gift cards for REI, Ulta, Nike, Macy's, Delta Airlines, Southwest Airlines, Norstrom, H&M, and many more.
5. Test Apps and Products $100 – $300
UserTesting will pay you to test websites, apps, and products and then share your opinions. The company has been around since 2007, and it's an easy way to make money by sharing your opinions in real-time about products or a website's user experience.
For a test, you will need to have a camera and microphone. The default camera and microphone on your laptop are fine. You will answer a series of questions for a brand as you look at different images or navigate to different web pages. Your answers are kept confidential.
The average User Test you complete pays $10 per 20 minutes of work. There are tests that pay as little as $3 and some that pay as much as $60. You will be paid for completing tests via PayPal 7 days later.
You must be 18 years or older and meet any other requirements. Sign up for User Testing.
Other Tips on Paying for Christmas Presents
We've outlined some ways to make extra money for holiday shopping. Even if you didn't set up a Christmas savings account months ago, there's still time to make some cash.
Here are a few tips to help that holiday spending money go a little further.
1. Come up with a list of who you need to shop for and what you need to buy. (And keep it minimal. You don't need to shop for everyone you know.) Planning ahead is much better than showing up on Amazon.com, or a shopping mall, and darting around looking for ideas.
Tip: If you don't know what Jeanne would want, maybe Jeanne doesn't need a gift. Or if you must do something, maybe Jeanne would appreciate a homemade gift. As any avid crafter or hobbyist will tell you though, homemade does not mean free.
2. Research prices. Black Friday isn't always the best deal, but sometimes it is. And most stores start Black Friday well ahead of Thanksgiving. Research when your store's deals will kick off.
3. Figure out how much you need to earn for the gifts you want to give. This can make earning Christmas money less daunting and feel more actionable.
4. Claim cash back on your purchases. Deals sites like Swagbucks offer cash back rebates of 1% to 20% or more at thousands of popular stores, including Kohl's, Macy's, Lowe's, and Home Depot.
5. Ask family members for help. You don't have to ask them for money, but you can let them know about a special present your child will like and ask if they can gift it.
6. Stock up on holiday-themed gifts and gear (clothing, gift mug sets, ornaments) after Christmas. Retailers will start slashing prices on holiday-themed merchandise as it gets closer to December 25. But just 1 day after, you'll see huge discounts for these items. I like to buy wrapping paper, Christmas lights, and Christmas-themed pajamas in a size or two up.
Trending Articles: